Celebrating 40 years since the official opening of the Princes Hall by HRH The Duke of Edinburgh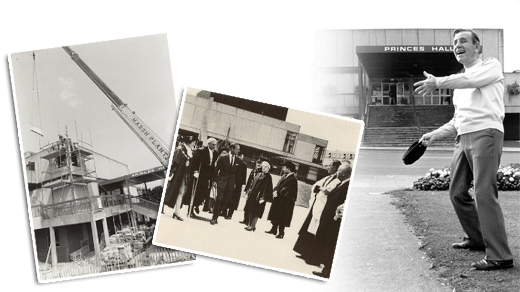 From the 22nd May to 1st June 2013 we held an exhibition of memorabilia from the past 40 years, taken from the Princes Hall archives.
The very first concert at the venue was actually in October 1972, six months before the official opening, where Kenny Ball and his Jazzmen performed to a sell out audience. The theatre has since built up quite a hall of fame, welcoming a host of actors, comedians and singers to tread the boards.
Legendary entertainers Clive Dunn, Tommy Trinder and Harry H. Corbett all appeared in pantomimes at the theatre in the 70s. Little & Large, The Krankies, Val Doonican, Barbara Dickson, Danny La Rue, Lenny Henry, Norman Wisdom, Des O'Connor and Alvin Stardust are also some of the names who brought their shows to the venue during the 80s and 90s.
Over the past ten years, the venue has hosted big name acts such as The Hollies, Jane McDonald, Jools Holland, Joan Armatrading and Katherine Jenkins. It has also attracted many top name comedians including Jimmy Carr, Frank Skinner, Rhod Gilbert, Sarah Millican, Lee Mack, Al Murray, Harry Hill and, of course, the legendary Ken Dodd!
Prince Phillip announced the opening of the building with the words: "I'm sure this centre will be a tremendous success...but I can't help feeling that you should all now jump up and start dancing. In case there's any doubt - the place is now open."
With over 100,000 people flocking through its doors every year, the Princes Hall has never been more popular.
David Phillips, Theatre Manager said, "The Princes Hall holds a special place in the hearts of many local people. The exhibition of memorabilia from our archives will give people the chance to have a stroll down memory lane".
For more information on the general history of the Princes Hall, visit our History page or take a look at our pantomime archives.