In 1972 Tommy Trinder; a stage, screen and radio comedian of the pre and post war years whose catchphrase was 'You lucky people' stepped onto the stage at the Princes Hall in our first ever panto Puss in Boots.
Since then we have produced a pantomime every year, where possible, ranging from the traditional panto titles of Aladdin, Jack and the Beanstalk, Dick Whittington and Cinderella, to the more contemporary, Wizard of Oz, Sleeping Beauty, Beauty & The Beast and Snow White, as well as the more unusual Robinson Crusoe, Red Riding Hood and the Pied Piper.
Many well known faces from stage and screen have also taken part in our panto's over the years; Harry H. Corbett, Melvin Hayes, Clifford Henry, Anna Karen, Bobby Brag, Clive Dunn, Arthur English, Johnny Ball, Keith Chegwin, Danny John Jules, Michael Fenton Stevens and Dominic Wood.
Do you have any fond memories of watching a panto at the Princes Hall or were you a dancer in one of the performances? We would love to hear your stories! Please email edward.haversham@rushmoor.gov.uk to tell us them.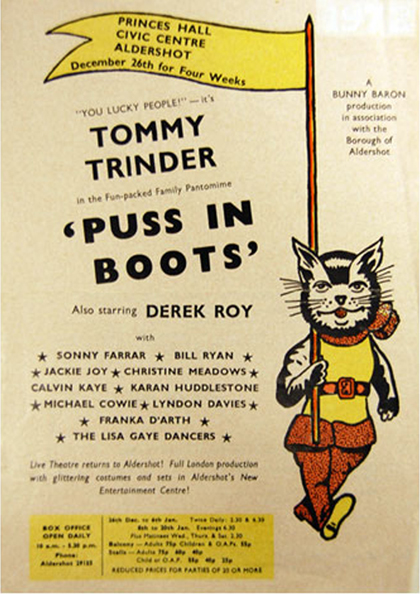 1972 Puss In Boots
Tommy Trinder
Derek Roy
Sonny Farrar
Bill Ryan
Jackie Joy
Christine Meadows
Calvin Kaye
Karan Huddlestone
Michael Cowie
Lyndon Davies
Franka D'arth
Producer: Bunny J. Barron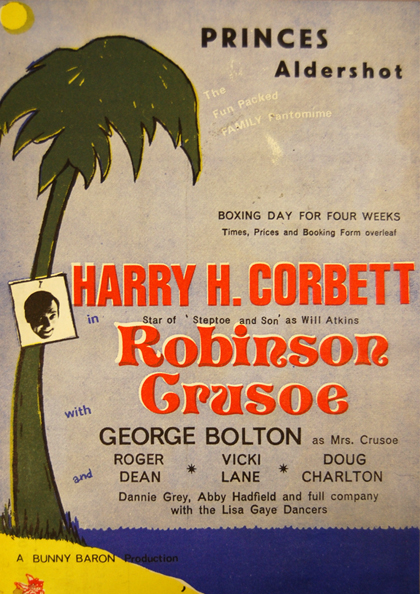 1973 - Robinson Crusoe
Harry H Corbett
George Bolton
Roger Dean
Abby Hadfield
Vicki Lane
Doug Charlton
Dannie Gray
Robert Atiko
Richard Ruck
Jacqui Lee
Producer: Bunny J. Barron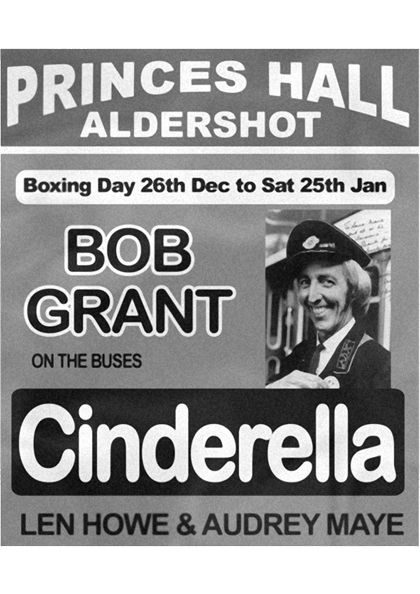 1974 - Cinderella
Bob Grant
Len Howe
Audrey Maye
Bonnie Downes
Ravel
Melita Manger
Producer: Bunny J. Barron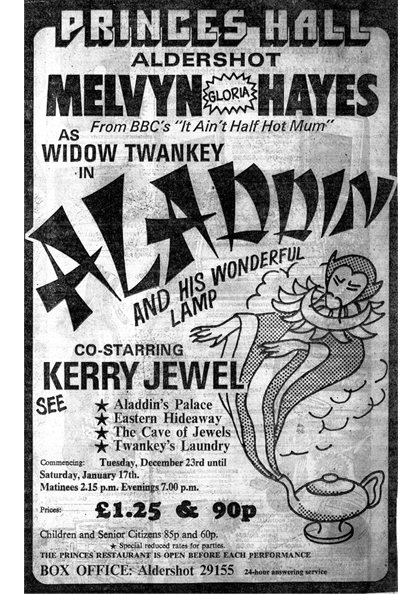 1975 Aladdin
Melvyn Hayes
Kerry Jewell
Karan Simmons
Chris Booth
Cathy Houghton
Douglas Gorin
Hugo Myatt
Jacqui Lee
Doug Charlton
Producer: Bunny J. Barron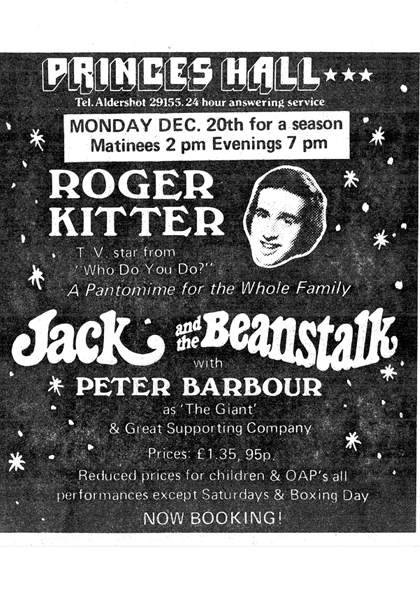 1976 Jack and the Beanstalk
Roger Kitter
Peter Barbour
Louis Roberts
Karen ann Beale
Sam Davies
Joe Steck
Roger Carne
Annette Helson
Sue Hammer
Sue Barbour
Lindy Mcnaughton
Producer: Bunny J. Barron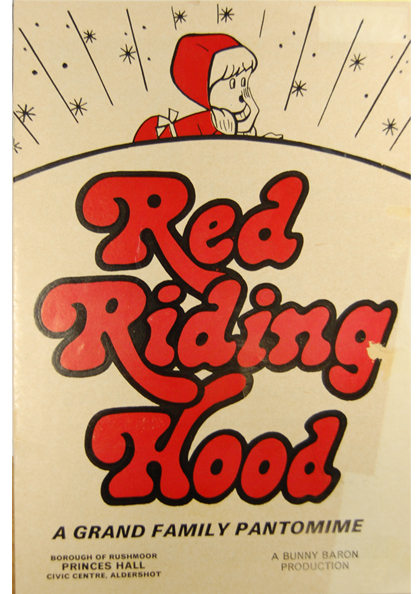 1977 Red Riding Hood
John Junkin
Barry Johns
Don Crann
Lisa Crann
Roger Dean
George Barnes
June Miller
Nelson Ward
Francesca Boulter
Teresa Codling
Producer: Bunny J. Barron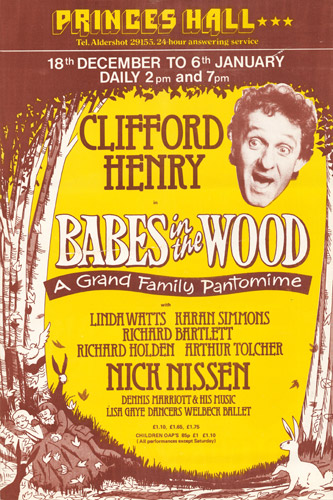 1978 Babes in the Wood
Clifford Henry
Nick Nissen
Karan Simmons
Hilary O Neil
Richard Holden
David Howe
Linda Watts
Debbie Watts
Deborah Ginn
Richard Bartlett
Arthur Tolcher
Ron Aldridge
Producer: Bunny J. Barron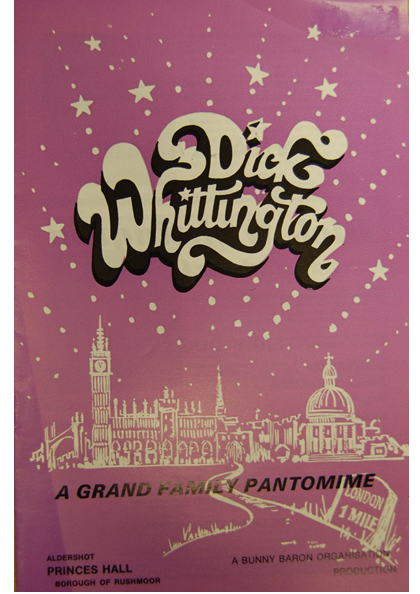 1979 Dick Whittington
Anna Karen
Ken Joy
Terry Duggan
Jenny Kenna
Michael Lomax
Val Fox
Deena Martin
Simone Francis
David Summer
Hilary Johnson
Producer: Bunny J. Barron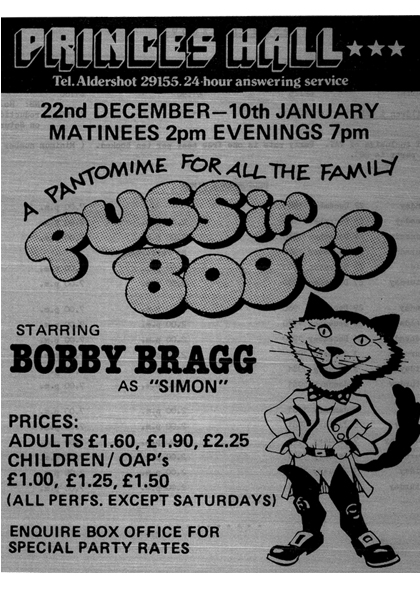 1980 Puss in Boots
Bobby Bragg
Gary Webb
Karan Simmons
Sally Barbary
Ian Liston
Caroline Sergeant
John Mulcahy -Morgan
Neil West
Maria Mann
Joe Steck
Producer: Bunny J. Barron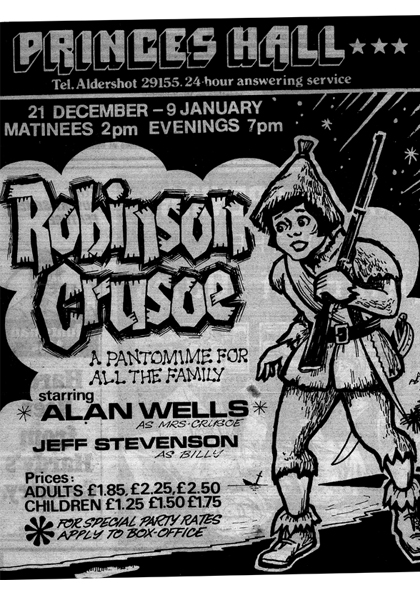 1981 Robinson Crusoe
Alan Wells
Jeff Stevenson
Jane Terry
Mandy Earl
Hu Price
Neil West
James Vallon
Debbie Lloyd
Lindsay Holliday
Joe Steck
Producer: Bunny J. Barron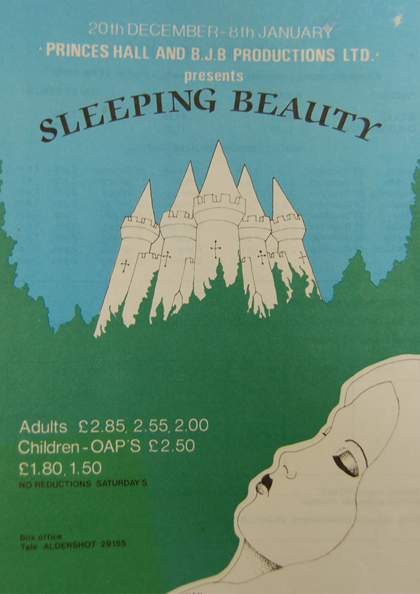 1982 Sleeping Beauty
Barry Johns
Don Crann
Michael Lomax
Lisa David
Valerie Hermanni
Jill Fletcher
Julia Burnett
Angelo Abela
Producer: Bunny J. Barron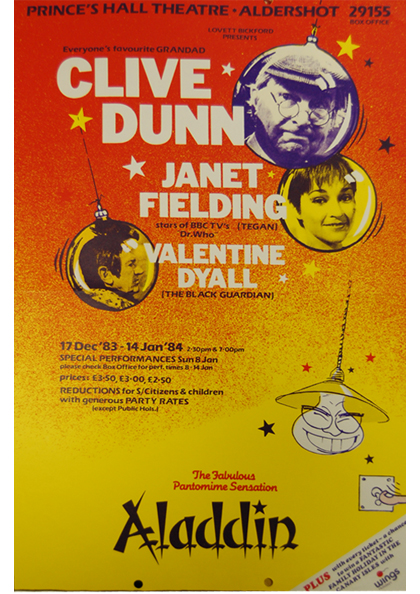 1983 Aladdin
Clive Dunn
Janet Fielding
Valentine Dyall
Tyler Butterworth
Geoffrey Russell
Andrea Bailey
Cindy Blow
Paul Cocker
Brady Rogers
Isobel Duncan
Producer: Bunny J. Barron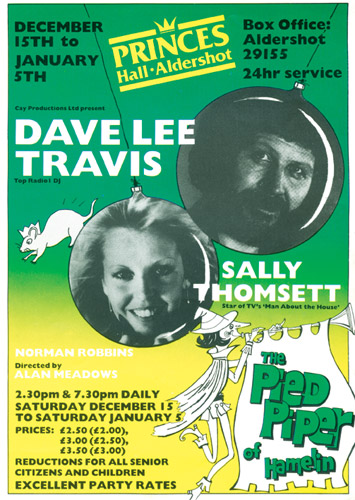 1984 Pied Piper
Dave Lee Travis
Sally Thomsett
Peter Durkin
Alan Meadows
Eric Corlett
Norman Robbins
Leigh Miles
Becci Lowe
Producer: Chris Yates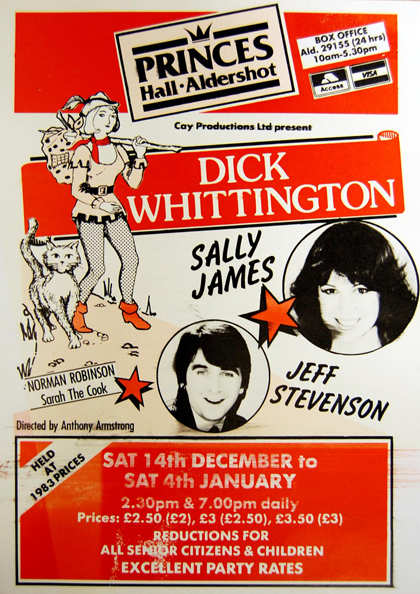 1985 Dick Whittington
Sally James
Jeff Stevenson
Norman Robbins
Knight Mantell
Mandy Humphrey
Micheal Lomax
Frank Seton
Debbie Ginn
Emma Worwood
Producer: Chris Yates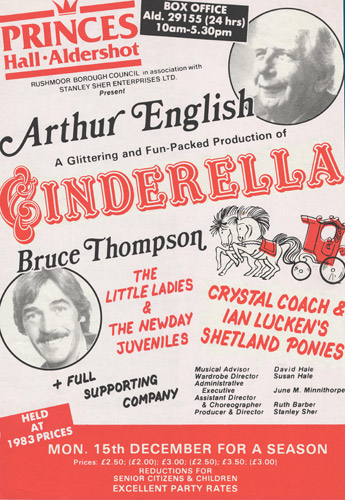 1986 Cinderella
Arthur English
Bruce Thompson
Yvonne Hawkins
Ruthie Henshall
Chris Poole
David Thorn
Paul Henshall
Michele Hooper
Teresa Codling
Producer: Stanley Sher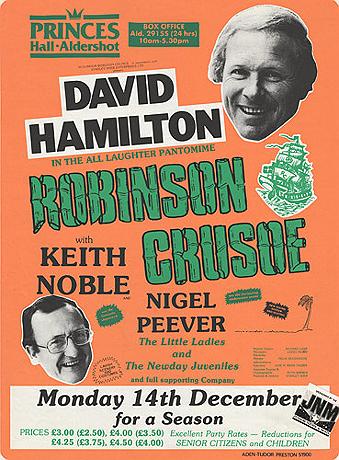 1987 Robinson Crusoe
David Hamilton
Keith Noble
Ray Ballard
David Sternberg
Anne Roderick
Nigel Peever
Lynda Myers
Andrew Francis
Producer: Stanley Sher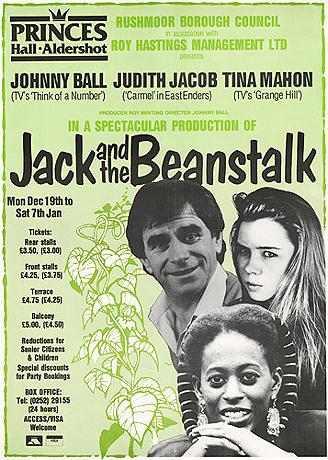 1988 Jack and the Beanstalk
Johnny Ball
Judith Jacob
Billy Uke Scott
Tina Mahon
Ian Thomas
Maurice Tkaczuk
Glen Hayes
Ian Dickens
Meg Duvall
Producer: Roy Hastings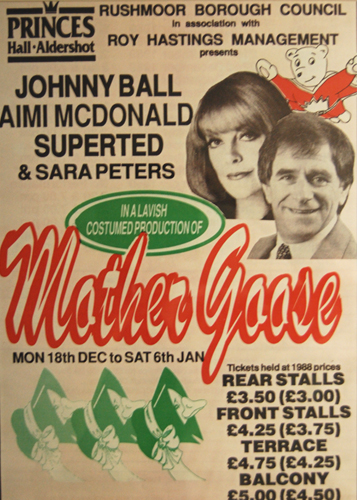 1989 Mother Goose
Johnny Ball
Aimi MacDonald
Sara Peters
Marty Swift
Superted
Producer: Roy Hastings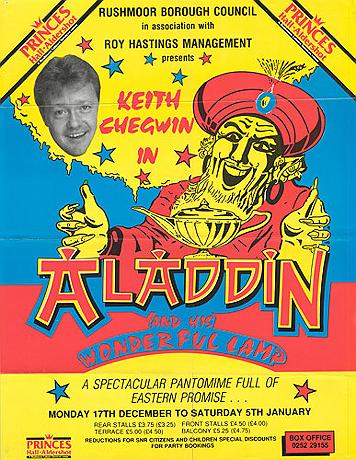 1990 Aladdin 
Keith Chegwin
Chris Ponka
Rachel Hamilton
Lisa Marks
Alex Ward
Jimmy Webster
Murray Mcgrath
Anthony Newton
Richard Leigh
Sheryl
Producer: Roy Hastings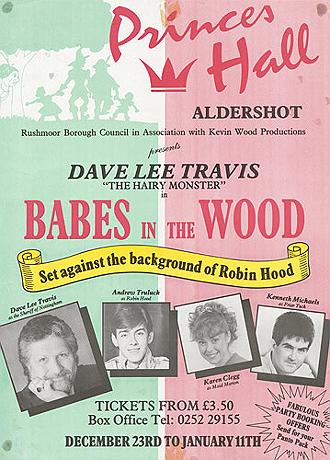 1991 Babes in the Wood
Dave Lee Travis
Victoria Kempton
Andrew Truluck
Karen Clegg
Kenneth Michaels
David Barry
Steve Whatley
Steven Speirs
Hayley Cross
Kate Waddell
Ashley Vallance
Tom Neill
Producer: Roy Hastings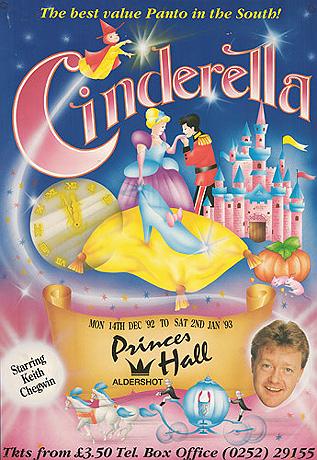 1992 Cinderella
Keith Chegwin
Producer: Roy Hastings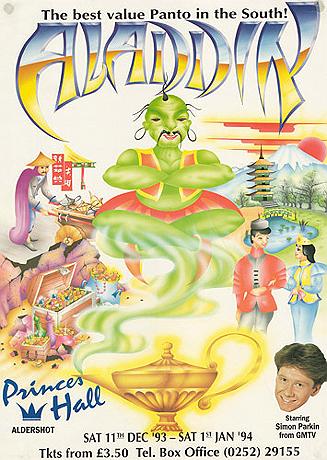 1993 Aladdin
Simon Parkin
Producer: Roy Hastings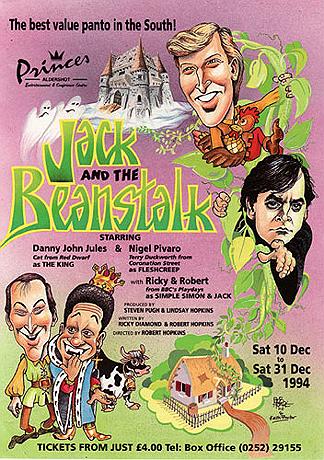 1994 Jack in the Beanstalk 
Danny John Jules
Nigel Pivaro
Robert Hopkins
Ricky Diamond
Peter Johns
Trevor Gare
Amanda Salmon
Stephanie Watts
Producer: Princes Hall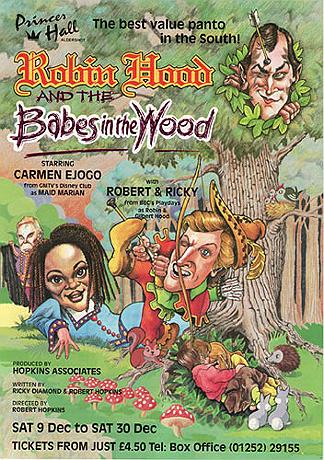 1995 Robin Hood and the Babes in the Wood
Carmen Ejogo
Robert Hopkins
Ricky Diamond
Barry Craine
David Horne
Johnny England
Shona White
Producer: Robert Hopkins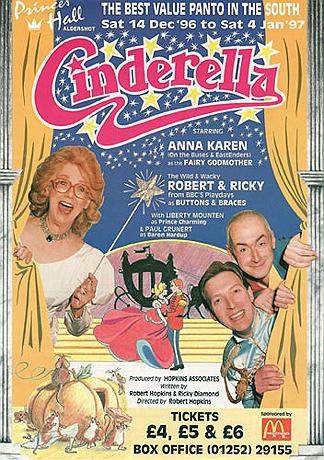 1996 Cinderella
Anna Karen
Robert Hopkins
Ricky Diamond
Lesley Young
Paul Grunert
David Horne
Alan Atkins
Liberty Mountain
Steve Cristy
Producer: Robert Hopkins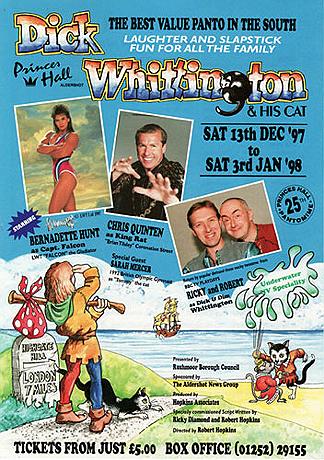 1997 Dick Whittington
Chris Quinten
Bernadette Hunt
Robert Hopkins
Ricky Diamond
Paul Grunert
Peter Geddis
Dee West
Gilda Kristian
Sarah Mercer
Producer: Robert Hopkins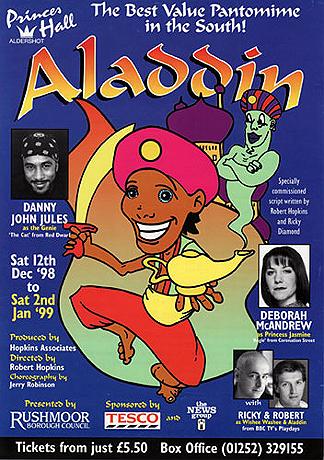 1998 Aladdin
Danny John Jules
Deborah Mcandrew
Robert Hopkins
Ricky Diamond
David Horne
Michael Fenton-Stevens
Llewellyn Williams
Emma Buckle
Producer: Robert Hopkins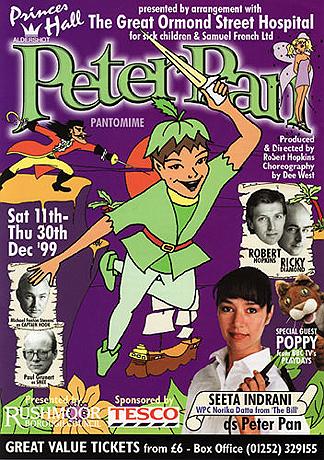 1999 Peter Pan
Seeta Indranani
Robert Hopkins
Ricky Diamond
Michael Fenton-Stevens
Paul Grunert
Producer: Robert Hopkins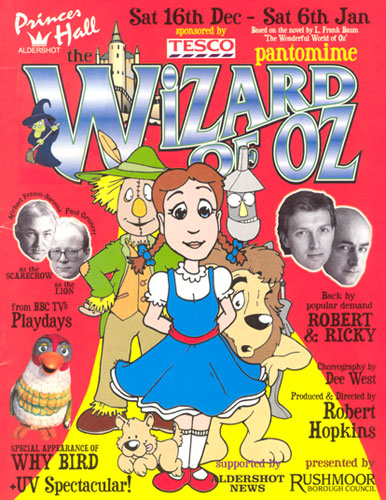 2000 The Wizard of Oz
Robert Hopkins
Ricky Diamond
Michael Fenton-Stevens
Paul Grunert
Alison Carter
Why Bird
Producer: Robert Hopkins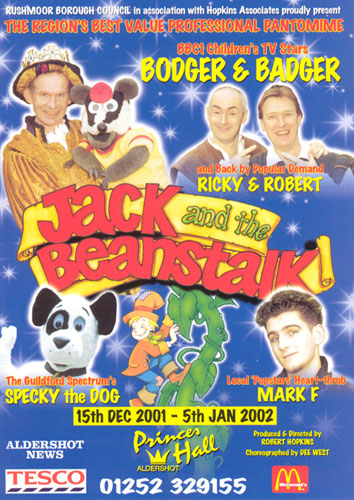 2001 Jack and the Beanstalk
Bodger and Badger
Robert Hopkins
Ricky Diamond
Mark Fallon
Bryn Lucas
Simon Howe
David Horne
Melanie Marcus
Melitsa Nicola
Specky the Dog
Producer: Robert Hopkins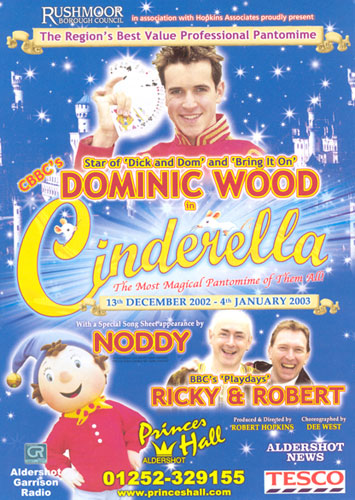 2002 Cinderella
Dominic Wood
Robert Hopkins
Ricky Diamond
Claire Stanley
Christine Ellerbeck
Sarah Lane
Glen McCready
Michael Chance
Noddy
Producer: Robert Hopkins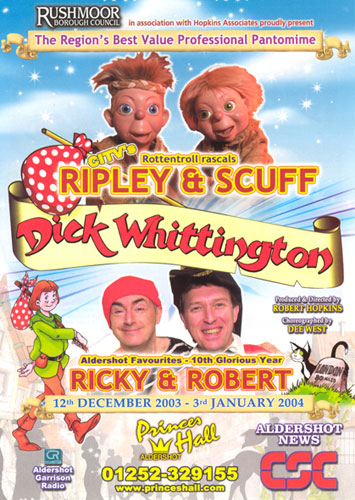 2003 Dick Whittington
Ripley and Scuff
Robert Hopkins
Ricky Diamond
Alison Carter
Bryn Lucas
Glen McCready
Shona White
Jon De Ville
Emma Lewis
Producer: Robert Hopkins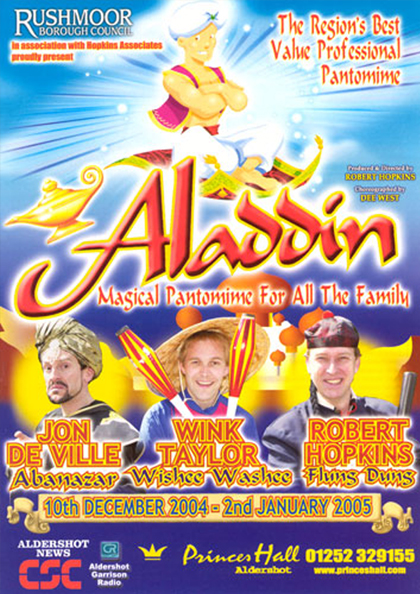 2004 Aladdin
Robert Hopkins
Donovan Christian-Cary
Bryn Lucas
Jon De Ville
Sarah Lindsey
Stuart Sherwin
Ellie Sprack
Wink Taylor
Producer: Robert Hopkins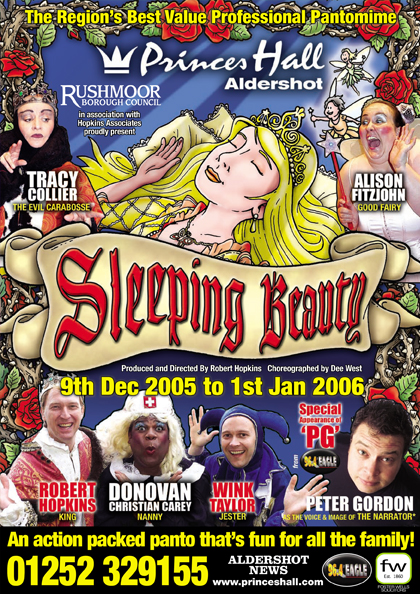 2005 Sleeping Beauty
Robert Hopkins
Donovan Christian-Cary
Jon De Ville
Wink Taylor
Wendy Abrahams
Emily Brookes
Tracy Collier
Alison Fitzjohn
Peter Gordon - voice of the mirror
Producer: Robert Hopkins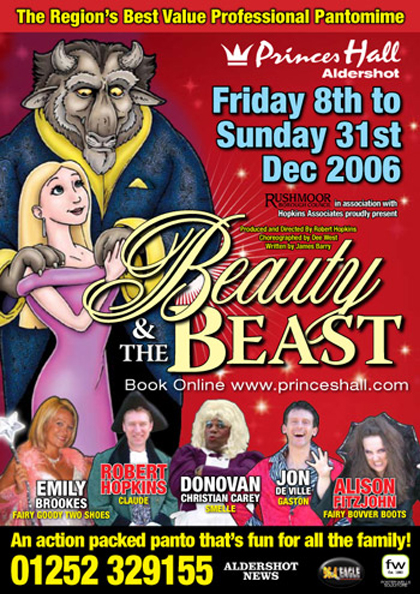 2006 Beauty and the Beast
Robert Hopkins
Donovan Christian-Cary
Jon De Ville
Emily Brookes
Alexander Evans
Alison Fitzjohn
Serena Giacomini
Adam Bampton-Smith
Producer: Robert Hopkins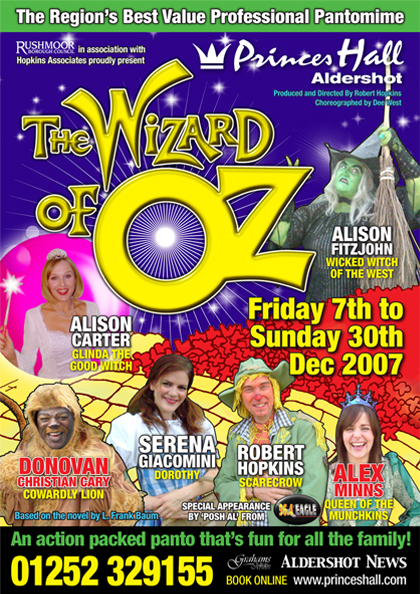 2007 The Wizard of Oz
Robert Hopkins
Donovan Christian-Cary
Alison Carter
Alison Fitzjohn
Serena Giacomini
Michael Blakemore
Roger Butcher
Anthony Flaum
Alex Minns
Producer: Robert Hopkins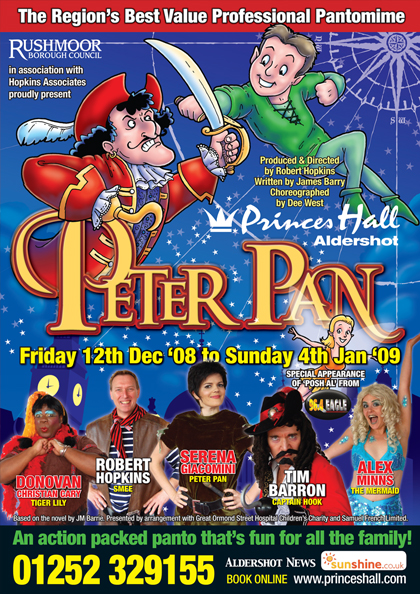 2008 Peter Pan
Robert Hopkins
Donovan Christian-Cary
Serena Giacomini
Alex Minns
Tim Barron
Zaraha Brown
Evelyn Connors
Justine Micallef
Producer: Robert Hopkins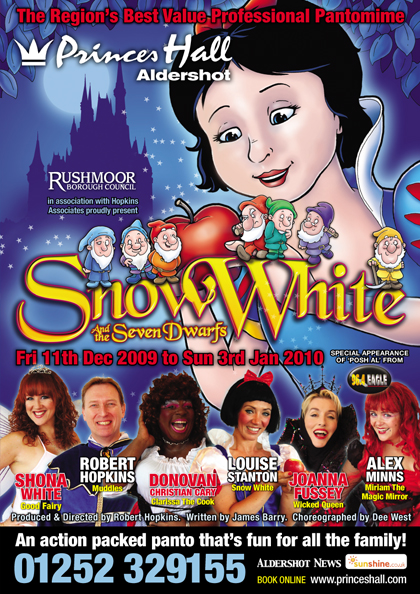 2009 Snow White
Robert Hopkins
Donovan Christian-Cary
Alex Minns
Tim Barron
Shona White
Kieran Brown
Joanna Fussey
Louise Stanton
Producer: Robert Hopkins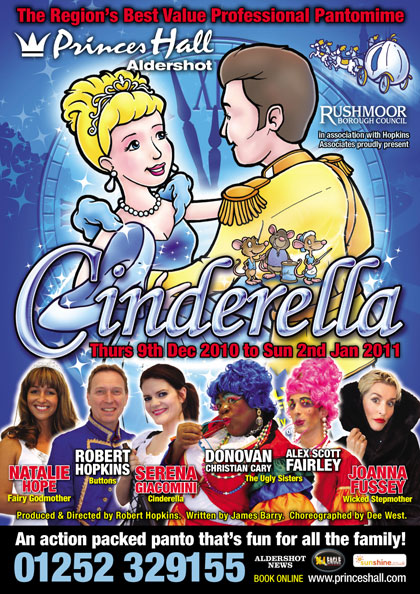 2010 Cinderella
Robert Hopkins
Donovan Christian-Cary
Serena Giacomini
Tim Barron
Joanna Fussey
Alex Scott Fairley
Natalie Hope
Dougal Irvine
Simon Pontin
Producer: Robert Hopkins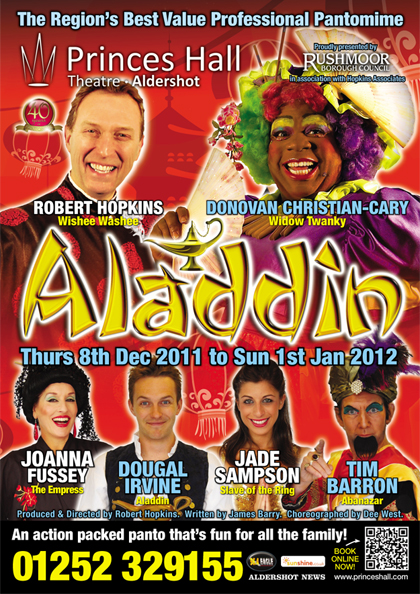 2011 Aladdin
Robert Hopkins
Donovan Christian-Cary
Tim Barron
Joanna Fussey
Dougal Irvine
Rachel Lea-Gray
James Franklin
Jade Sampson
Liane Munsch
Producer: Robert Hopkins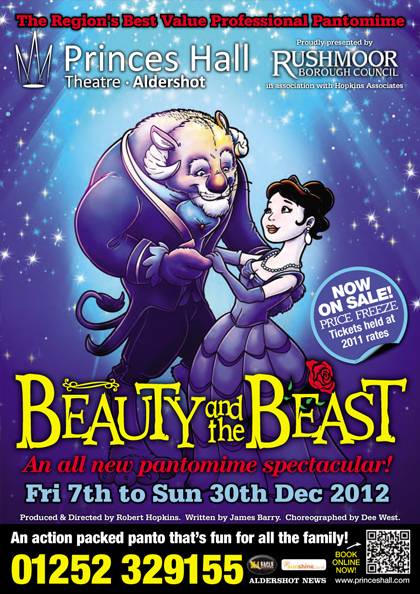 2012 Beauty and the Beast
Robert Hopkins
Donovan Christian-Cary
Tim Barron
Joanna Fussey
James Franklin
Natalie Hope
Jade Sampson
Simon Pontin
Producer: Robert Hopkins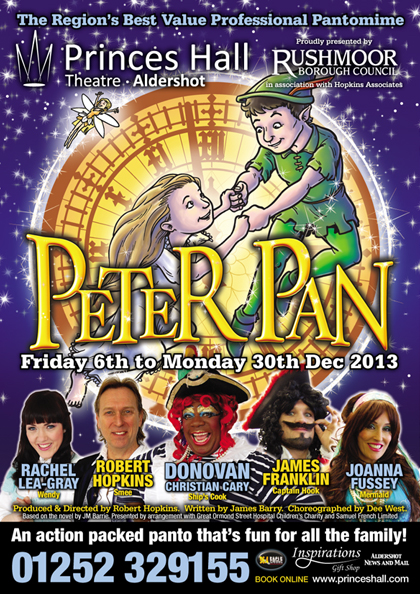 2013 Peter Pan
Robert Hopkins
Donovan Christian-Cary
Serena Giacomini
Joanna Fussey
James Franklin
Rachel Lea-Gray
Adam Pettigrew
Kara Lily Hayworth
Producer: Robert Hopkins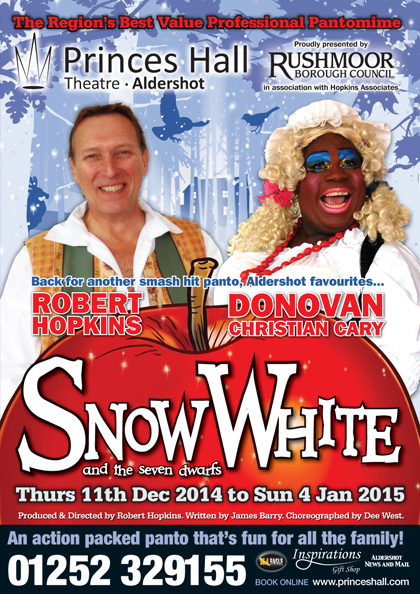 2014 Snow White
Robert Hopkins
Donovan Christian-Cary
Serena Giacomini
James Franklin
Rachel Lea-Gray
Bryn Lucas
Clodagh Long
Joanna Fussey - voice of the mirror
Producer: Robert Hopkins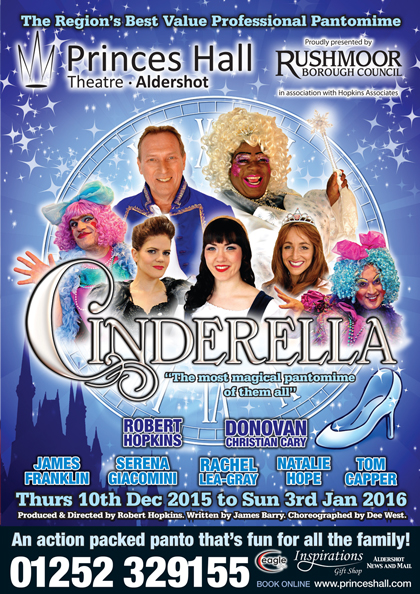 2015 Cinderella
Robert Hopkins
Donovan Christian-Cary
Serena Giacomini
James Franklin
Rachel Lea-Gray
Natalie Hope
Tom Capper
John McLarnon
Alastair Natkiel
Producer: Robert Hopkins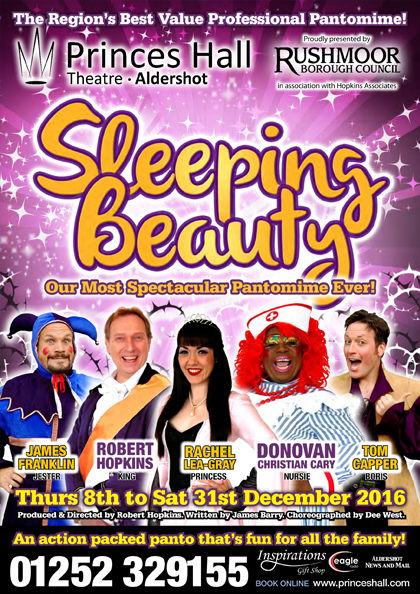 2016 Sleeping Beauty
Robert Hopkins
Donovan Christian-Cary
Serena Giacomini
James Franklin
Rachel Lea-Gray
Tom Capper
Laura Bella Griffin
Callum Tempest
Producer: Robert Hopkins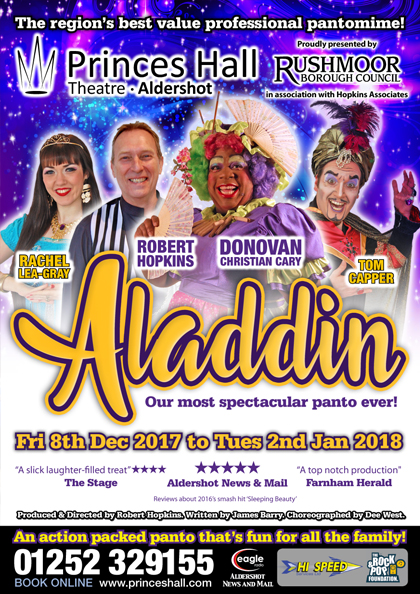 2017 Aladdin
Robert Hopkins
Donovan Christian-Cary
Serena Giacomini
James Franklin
Rachel Lea-Gray
Natalie Hope
Tom Capper
Samuel Wright
Producer: Robert Hopkins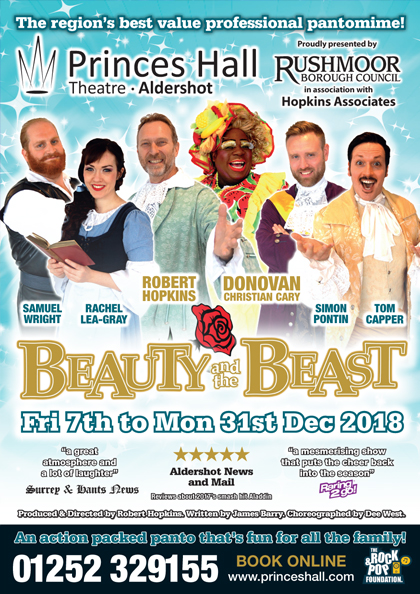 2018 Beauty and the Beast
Robert Hopkins
Donovan Christian-Cary
Rachel Lea-Gray
Paul Grunert
Tom Capper
Simon Pontin
Samuel Wright
Kluane Saunders
Producer: Robert Hopkins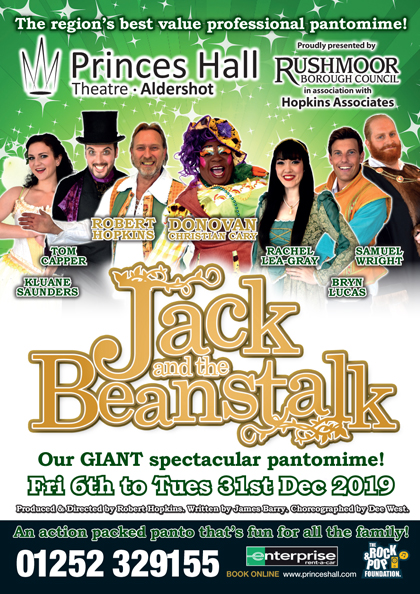 2019 Jack and the Beanstalk
Robert Hopkins
Donovan Christian-Cary
Rachel Lea-Gray
Bryn Lucas
Tom Capper
Samuel Wright
Kluane Saunders
Producer: Robert Hopkins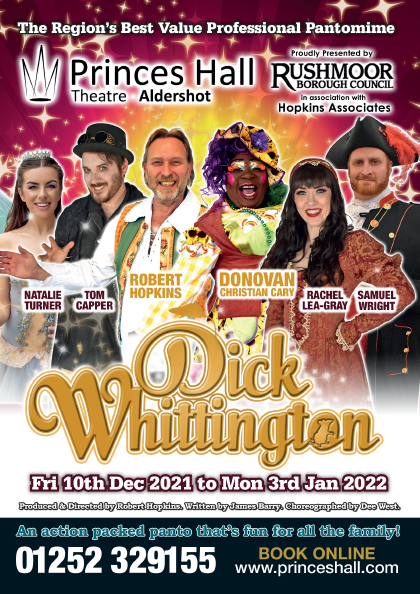 2021 Dick Whittington
Robert Hopkins
Donovan Christian-Cary
Rachel Lea-Gray
Tom Capper
Samuel Wright
Natalie Tuner
Alex Zane
Producer: Robert Hopkins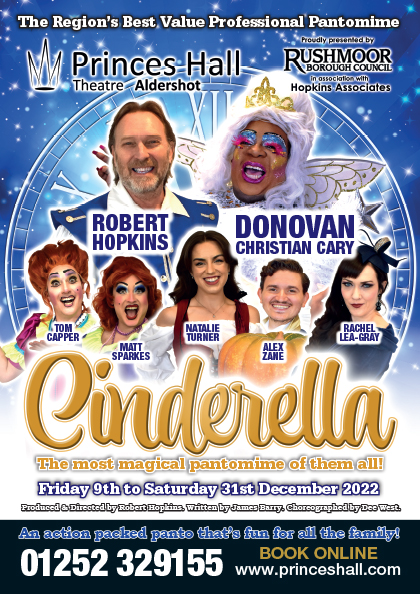 2022 Cinderella
Robert Hopkins
Donovan Christian-Cary
Rachel Lea-Gray
Tom Capper
Natalie Turner
Alex Zane
Charlie Murray
Matt Sparkes
Producer: Robert Hopkins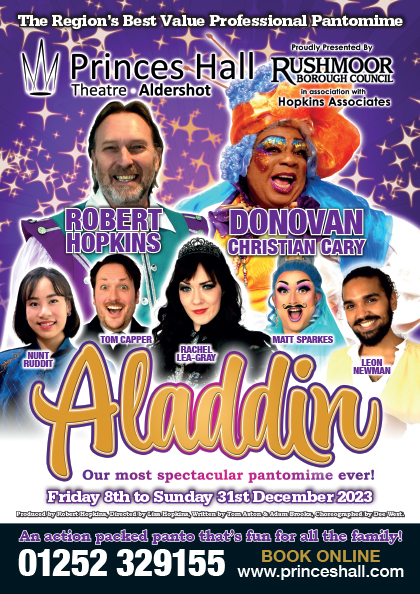 2023 Aladdin
Robert Hopkins
Donovan Christian-Cary
Rachel Lea-Gray
Tom Capper
Matt Sparkes
Leon Newman
Nunt Ruddit
Producer: Robert Hopkins